STELLAR SNACKS' EXCITING EXPANSION IN LOUISVILLE, KENTUCKY
JOIN US ON OUR JOURNEY TO BRING PASSION & GOURMET PRETZEL BAKING TO THE HEART OF KENTUCKY
We're thrilled to announce our expansion into Louisville. As we set up shop in this vibrant city, we're embracing our commitment to quality, sustainability, community and a bit of French inspiration. With a new 434,000 square-foot facility, we're cooking up something extraordinary.
ABOUT US
BECOME A PART OF THE STELLAR FAMILY IN LOUISVILLE
Stellar Snacks is on a mission to build the brightest team of talented individuals, equipped with training, empowerment and support to reach personal heights. Discover our job openings and apply to become a part of snack history in the making. From pretzel makers to management, we're looking for dedicated team players ready to grow with us.
STAY TUNED ABOUT OUR UPCOMING JOB FAIRS
Curious about taking the next step? We'll be participating in local job fairs in Louisville to connect with our future team members. Stay updated on dates, locations, and training opportunities. Can't wait? Email louisville@stellarsnacks.com to get in touch with us right away!

★ First job fair: December 16, 2023, more information coming soon.
EXPLORE CAREERS
Try our Pretzels!
Save 20% at checkout with code: KENTUCKY
EMBRACE CREATIVITY WITH STELLAR SNACKS' ARTS INITIATIVES
We're dedicated to more than just tasty snacks. We love art and truly believe that artists have the power to change the world. In fact, the purpose behind Stellar Pretzel Braids packaging is to amplify emerging artists, and we won't stop there. Reach out to learn how you can get involved in creative opportunities within the Louisville community — plus, we welcome your suggestions!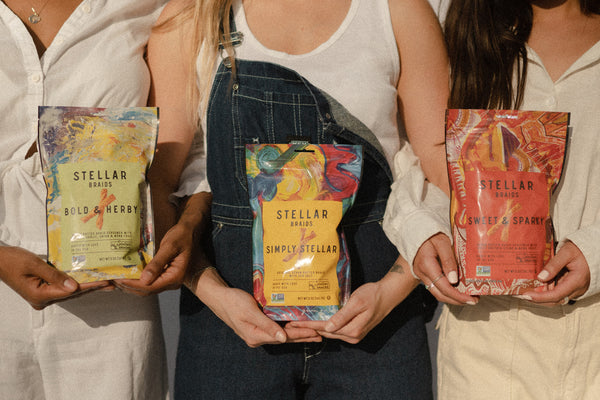 OUR COMMITMENT TO LOCAL PARTNERSHIP AND SUPPORT
We believe in being good neighbors. If you're a local farmer or supplier and want to get connected, we welcome your submissions. Local retailer? We'd be honored to share our products on your shelves. Our dream is that together, we can build a sustainable, quality-focused community and help one another succeed.
Get In Touch
LET'S CONNECT
Have questions or need more information? Contact us, and we'll be happy to assist you. Follow us on social media for the latest news, updates, and behind-the-scenes glimpses of Stellar Snacks.

Follow us on:

Instagram
Facebook
LinkedIn
Contact Us